Product Description
Submersible Horizontal Vertical Electric Mining Slurry Pump
NaiPu is one of professional factory of slurry pump , sand gravel pump , dreding pump and spare parts .
Naipu Slurry Pump Volute Liner can totally interchange with AH HH M L SP AF G Series slury pump parts.
We also produce spare parts according the the drawing or sample.
The pump and spare Parts are suitable for all slurry pumping applications - chemical, mineral processing, power generation and general industry.

NaiPu Related Pump
NaiPu Main products
1. AH , AHF,Horizontal Slurry Pump
2. SP Vertical sump pump
3. ZJQ Submersible slurry pump
4. G Horizontal sand gravel pump
5. ZJQ Submersible sand pump
6. WS Dredging pump
7. AF Froth Pump
8. TL(R) Desulphurization Pump
8.Clean Water Pump
9. OEM Casting machinery parts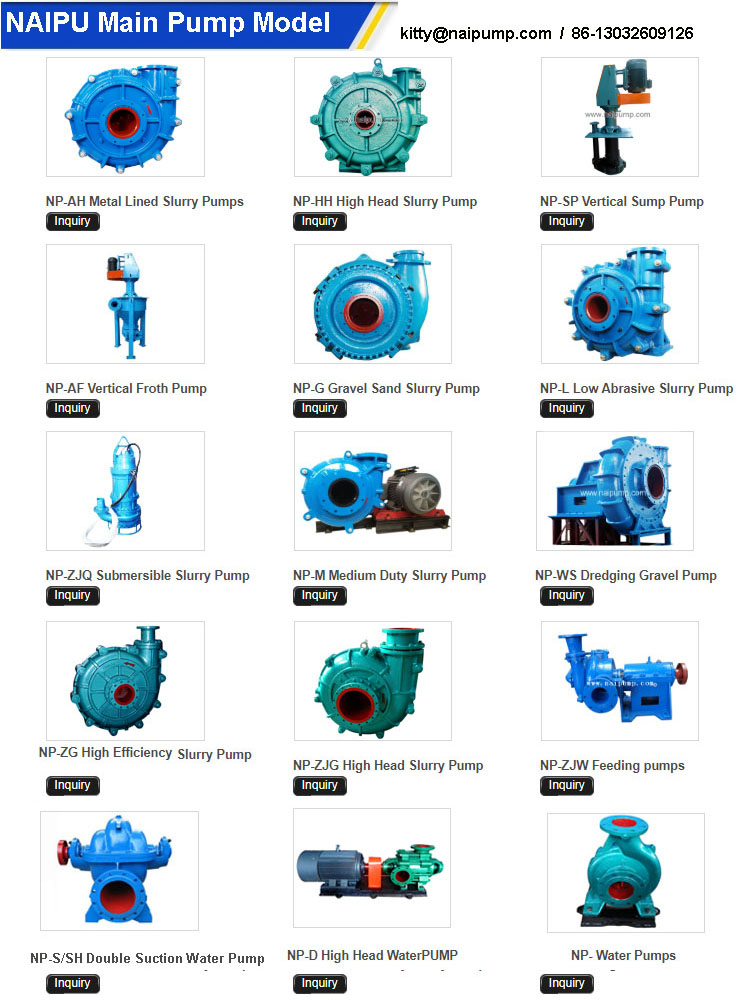 Metal Liner Heavy Duty Slurry Pump AH TYPE
1.5/1B-AH 2/1.5B-AH 3/2C-AH 3/2CC-AH 4/3C-AH 4/3CC-AH 4/3D-AH 4/3DD-AH 6/4D-AH 6/4DD-AH 6/4E-AH 6/4EE-AH 8/6E-AH 8/6EE-AH 8/6F-AH 8/6FF-AH 8/6R-AH 10/8ST-AH 10/8F-AH 10/8FF-AH 12/10ST-AH 12/10G-AH 12/10F-AH 12/10FF-AH 14/12ST-AH 14/12G-AH 14/12FF-AH 14/12F-AH 16/14TU-AH 20/18TV-AH
Rubber Liner Heavy Duty Slurry Pump AH TYPE
1.5/1B-AHR 2/1.5B-AHR 3/2C-AHR 3/2CC-AHR 4/3C-AHR 4/3CC-AHR 4/3D-AHR 4/3DD-AHR 6/4D-AHR 6/4DD-AHR 6/4E-AHR 6/4EE-AHR 8/6E-AHR 8/6EE-AHR 8/6F-AHR 8/6FF-AHR 8/6R-AHR 10/8F-AHR 10/8X-AHR 12/10ST-AHR 14/12ST-AHR 16/14TU-AHR
Metal Liner Vertical Slurry Pump SP TYPE
40PV-SP 65QV-SP 100RV-SP 150SV-SP 200SV-SP 250SV-SP
Rubber Liner Vertical Slurry Pump SP TYPE
40PV-SPR 65QV-SPR 100RV-SPR 150SV-SPR 200SV-SPR
Metal Liner High Head slurry pump HH TYPE
1.5/1C-HH 3/2D-HH 3/2DD-HH 4/3E-HH 4/3EE-HH 6/4F-HH 6/4FF-HH 6/4x- HH 6S-H 8/6S-H 8/6X-H 6S-HP 8/6S-HP 8/6X-HP
Metal Liner (Rubber Liner)Slurry Pump M TYPE
10/8E-M(R) 10/8R-M(R)
Metal Liner (Rubber Liner)Frothy Slurry Pump AF TYPE
2QV-AF(R) 3QV-AF(R) 6SV-AF(R) 8SV-AF(R)
Metal Liner Gravel Pump G TYPE
6/4D-G 6/4DD-G 6/4E-G 8/6E-G 8/6EE-G 10/8F-G 10/8FF-G 10/8S-G 12/10F-G 12/10FF-G 12/10G-G 14/12F-G 14/12FF-G 14/12G-G 10/8S-GH 10/8F-GH 10/8FF-GH 12/10G-GH 12/10F-GH 12/10FF-GH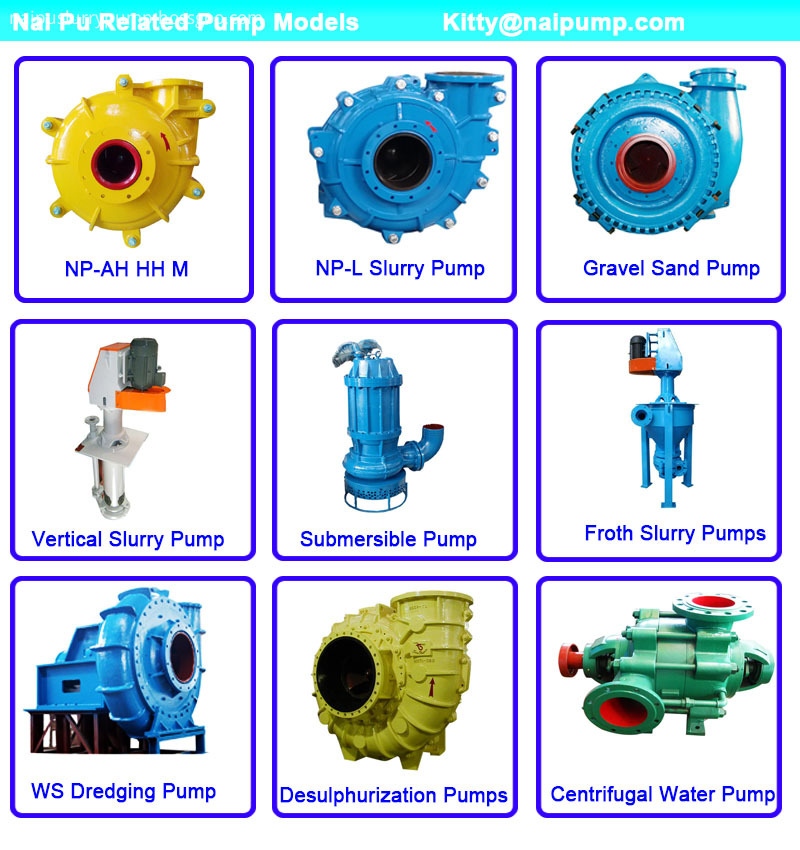 Pump Spare Parts
Main Slurry Pump Parts : Impeller , Volute Liner , Casing , ThroatBush, Frame Plate Liner Insert , Cover Plate , Frame Plate, Pump Liner Expeller , Expeller Ring ,Stuffing Box , Expeller , Pump Shaft , shaft sleeve, Shaft Spacer, Bearing Assembly , Base, Stuffing Box, Gland Assembly, Bearing Housing , Lantern Ring , pump discharge pipe , flange , and so on.


OEM Sevice


Application

The parts are widely used in Main Applications: Heavy Mining | Mineral Processing | Sand and Gravel |Coal Prep | Cyclone Feeds | Aggregate Processing | Fine Primary Mill Grinding | Chemical Slurry Service | Tailings | Secondary Grinding | Industrial Processing | Pulp And Paper | Food Processing | Cracking Operations | Ash Handling | Pipeline Transport | High Velocity Hydraulic Transport |Food Processing | Explosive Sludge In Metal Smelting | River And Pond Dredging | Heavy Refuse Removal | Larger Particle Or Low NPSHA Applications | Continuous (Snore) Sump Pump Operation | Abrasive Slurries | High Density Slurries | Large Particle Slurries | Sump Drainage | Wash down | Floor Drainage | Mixing | Iron Ore | Cooper | Diamond | Alumina | Coal | Gold | Kaolin | Phosphorite | Steel | Palm | Suger | Chemical | Power | FGD | Frac Sand Blending | Construction | City Sewage | etc.




Workshop

Shijiazhuang NaiPu Pump Co.,Ltd have own Foundry workshop, Machining Workshop, Assembly workshop, and advanced test equipment.

Factory Name

Shijiazhuang NaiPu Pump Co.,Ltd

Manufacturer or Trading Company

Manufacturer

Workshop

Foundry, Machining, Assembly

Year the company was established

2007.01.10

Number of employees

162

Designed capacity of factory

3,000.T

Resin Sand 2500T

Lost Foam Casting 500T

Factory area in m2

330,000m2

Does the factory record rejects. If so what is the reported reject rate for past 12 months.

Yes, We record.

the reported reject rate for past 12 months

=7.6%

Quality System Certification

ISO9001-2015

Types of Material the company produces

Ductile Iron

Chrome Iron

Alloy Steel

Rubber

Melting Equipment

Induction 2T X 2

Non destructive inspection equipment.

Ultrasonic testing equipment UT

Dye penetrant testing PT

typical products the foundry makes

Slurry Pump Wet End Parts

Hydrocyclone Parts

Wear resistant castings

Minimum and maximum casting weight for each moulding system

Max. 6.0T , Min. 3Kg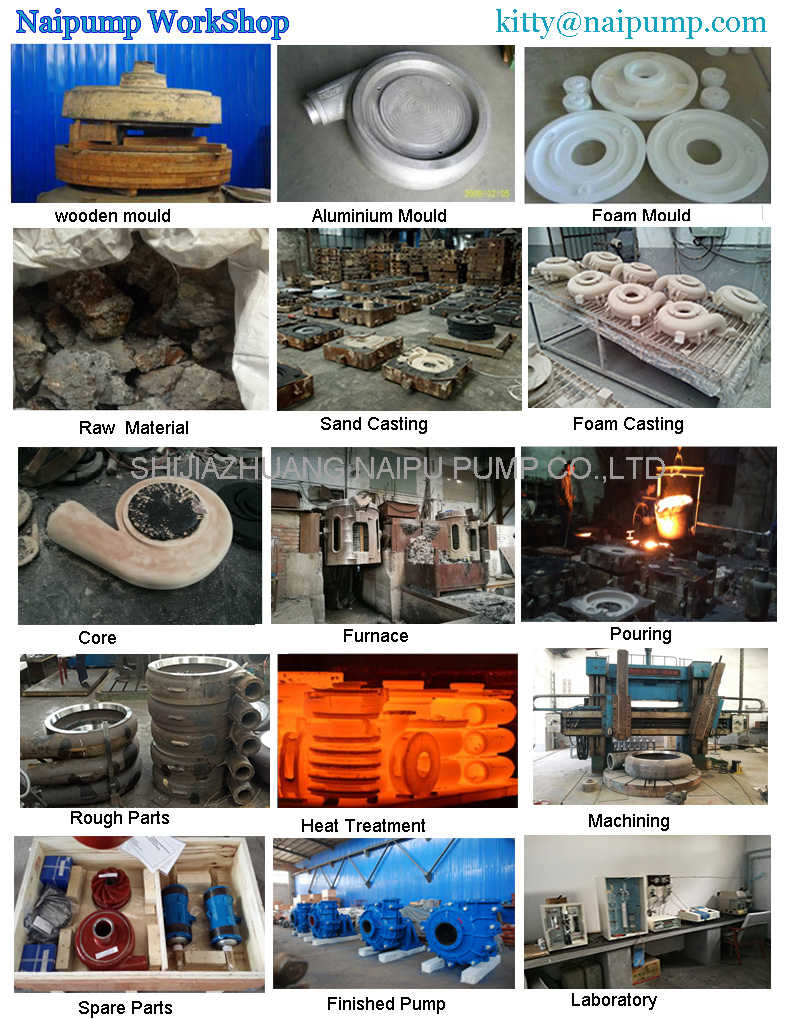 Inspection
All products are stringently tested to ensure quality and performance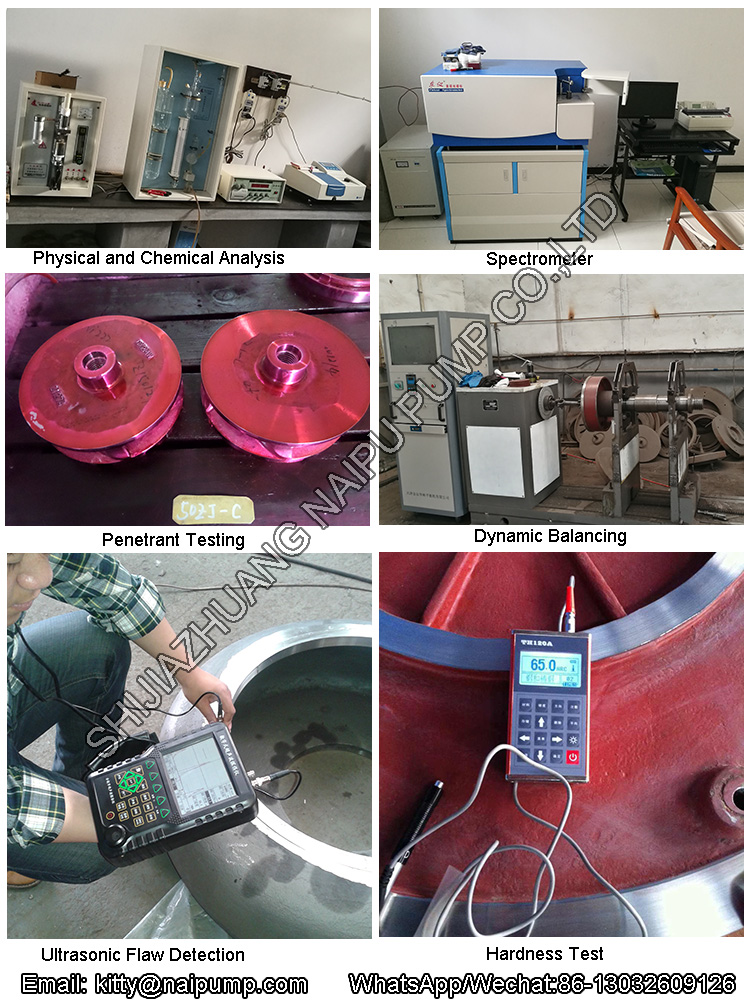 FAQ
1. What Products does naipu pump mainly produce ?
Naipu mainly Produce Slurry Pump , Gravel sand Pump , Dredging Pump, Centrifugal water pump and Spare Parts. Not only Pump parts , but also others wear casting parts if there is drawing or sample.
2. Is Naipu direct factory or trader?
Naipu own mould factory , foundry workshop, Machining Workshop, and Assembly workshop. Welcome to visit the factory anytime.
3. The Min MQQ
The MQQ is one pcs spare parts.
4. What information is required for quotes?
If you need the spare parts , we need to know the parts Code and material .
if you need the whole pump set , we need to know the usage ? the flow ,head, and SG , Corrosive or not ? the more details the better.
Contact me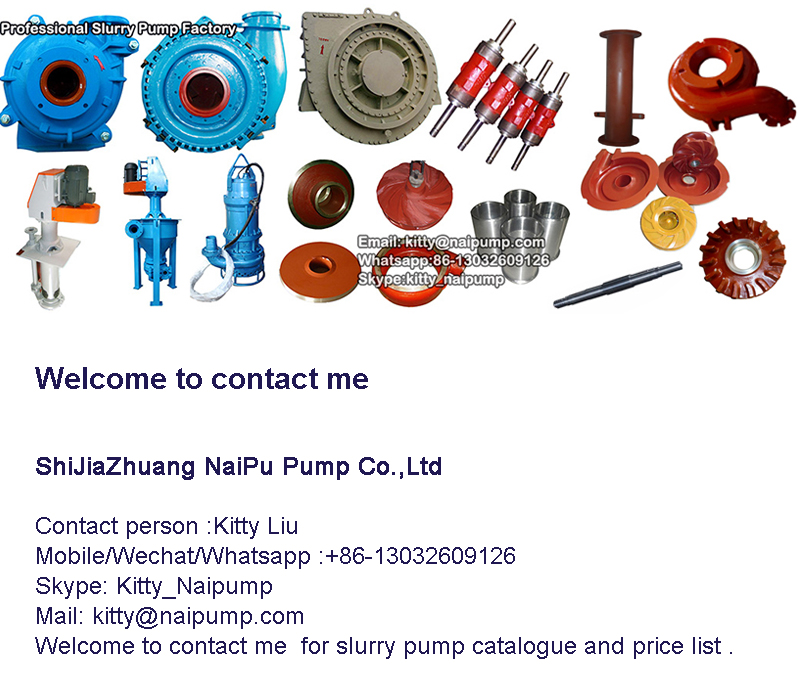 If there is any requirement for Centrifugal Horizontal Mine Slurry Pump, weclome to contact me for more.